Camera cages are only for videographers, right? In this review I'll show you why I love a cage for my hybrid work between architectural photography and videography.
From day one I've put my Canon R5 in a camera cage and only let it out for family outings where I want to carry minimal gear. Let me give you a few reasons why. As a camera cage example, I will test the SmallRig Camera Cage 2982 for Canon EOS R5 and R6.
Disclaimer: I am in no way sponsored by SmallRig and bought all the gear myself. I just love the versatility the SmallRig system gives me and hope to use it to streamline your workflow as well.
security
Have you ever photographed yourself climbing up the narrow scaffolding ladders on a construction site? Then I scratched the top display of my backup Canon R camera. For my free Modern Alpine Architecture project, I climbed through fairly rugged terrain to reach the buildings I wanted to capture. Contact between my camera and the rocks was inevitable during the climb. My camera cage gives me a lot more security in such situations. The sturdy metal frame gives my camera nice protection in all directions. That doesn't mean the camera will never be harmed, but the cage has protected my camera body from many knocks over the past two years. Additionally, with my camera dangling around my back while carrying it on a shoulder strap, the cage prevents accidental button presses and useless sidewalk footage. At around 300g I definitely feel the weight difference I carry but usually the benefits of this cage outweigh the added weight.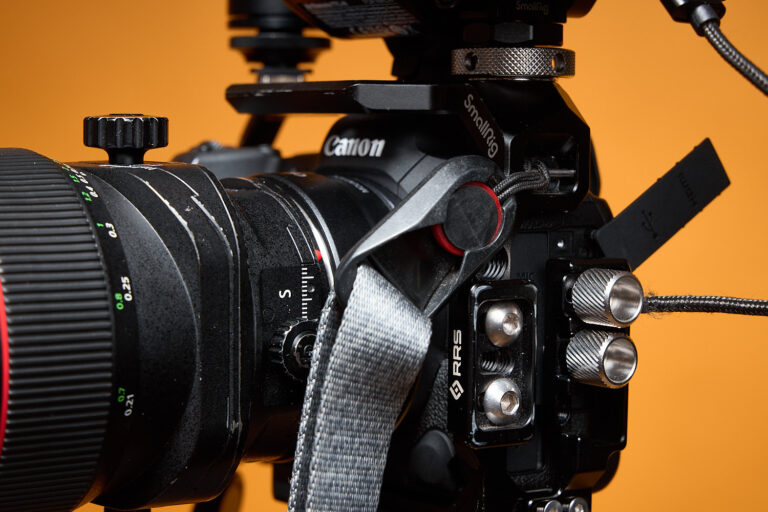 connectivity
I love it! As a tech nerd, I can't stop upgrading my gear to find the perfect combination of tools that will make my life as an architectural photographer easier. Take our beloved CamRanger, for example. It's always in the way, dangling somewhere on the tripod.
My Small Rig camera cage has a hot shoe mount on the left side. Combined with SmallRig's 2905 pan-tilt monitor mount, I have a stable mounting point for the CamRanger that fits perfectly next to my Profoto Air TTL flash remote and is just close enough to connect the proprietary USB-C cable to my camera .
Then I added a tiny ReallyRightStuff Arca-Swiss plate BPnS-S to the left side of the cage to make it an L-Bracket. Ok, it's not perfect. The distance between the connectors and the tripod head is now quite tight and I have to rotate the head 90° to get the same composition. But for its size, this plate is a phenomenal solution.
To record a behind-the-scenes first-person video, I attached a SmallRig Mini ball head to a 1/4″ hole in the cage and mounted the Peak Design Mobile Creator Kit to it. Now I have a flexible base to attach my phone to.
Are you afraid of broken cables on your camera? The cage keeps you covered. There is an optional SmallRig HDMI and USB-C Cable Clamp 2981, which is specially made for the cage and prevents USB-C and HDMI cables from becoming detached or kinked.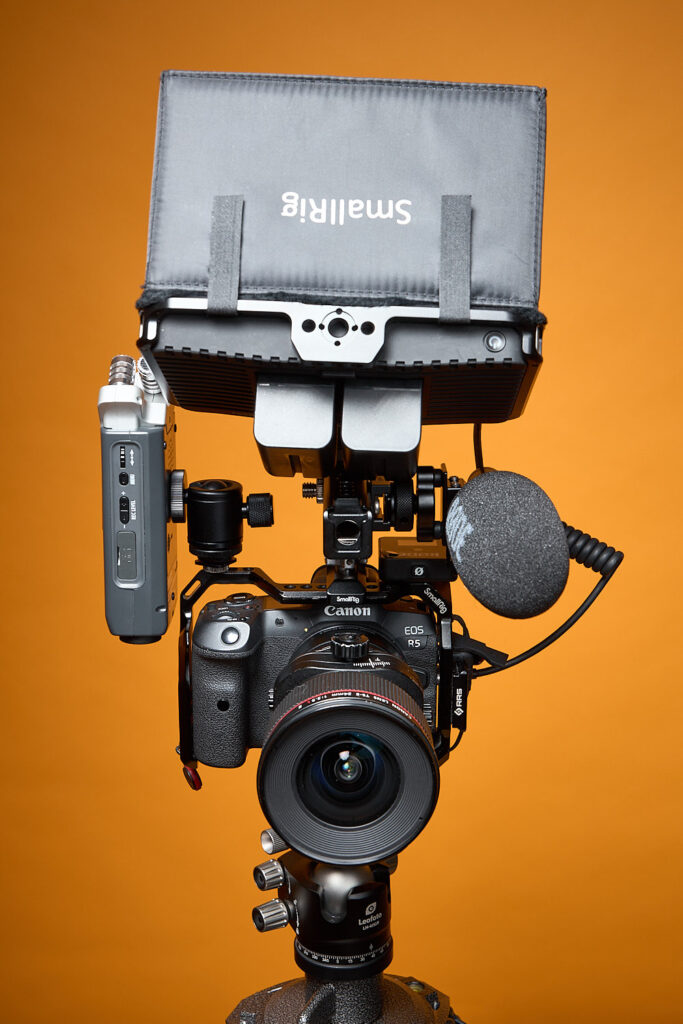 Of course you can also attach your favorite camera strap to the cage.
Do you like using those little flags to prevent sunspots on the ultra wide angle lenses? Small Rig has you covered with the Simple Shade 3199, which you can mount either via cold shoe or 1/4″ thread.
When I'm done shooting and want to switch to video, all I have to do is mount the SmallRig NATO Top Handle HTN2439B into the cage. Here my microphone is attached via an additional SmallRig Cold Shote 1960 to a SmallRig Shotgun Microphone Holder BSM2352 and the video monitor to another Monitor Mount 2905 and I only have to plug in the cables. As simple as that.
With its anti-twist pins, the SmallRig camera cage is firmly attached to the camera and with the magnetically attached screwdriver (at the bottom of the cage) I can take the camera off and shoot with it in seconds without all the gear attached.
Ok, that was a lot of connectivity options and I have to admit that you will very rarely see me using all of these accessories at the same time. The great thing is that this cage serves as a base to make your workflow dreams come true. You just have to do a little research in the video rigging segment to find a solution for your needs.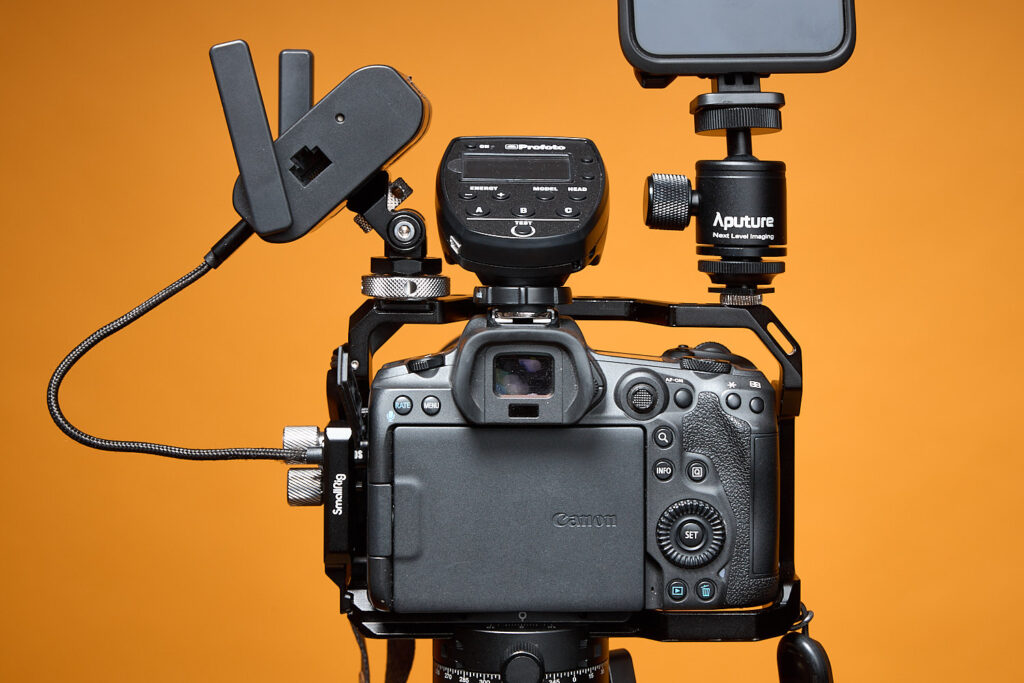 The look
That leaves me with just one more benefit of a camera cage: it looks really bad. When you get to a job with a camera rig like this, no one will question that you're a pro who knows what to do. Have you ever heard from your customers that they use the same camera as you for their vacation trips? Those times are over now.
As with everything, this camera cage isn't perfect. It adds weight and bulk to my camera, and sometimes I don't want that. But if you ask me, there is always the right tool for every job and I really enjoy using this cage for my hotel and architecture photo shoots. Bottom up!