Loud night in Kingston. Going to Di Lot on a Sunday like this could get anyone's senses into high gear. A quick turn of the head revealed three restaurants, a sleek bar, an upstairs art gallery, an open-air art exhibition, a glowing and blaring stage, and a few local artisan shops — all in this 1,000-person capacity venue. People were loosely scattered everywhere. Just an hour into the event's scheduled start time, a real insight into the potential of the space was still hours away.
On that breezy evening of November 13th, the New Wave digital platform took on a very real form there at 33 Constant Spring Road. Its flagship event, Block Party, gained momentum, delivering on its promise to "provide a celebration of music, food, arts and entertainment – the parts of our culture that make us who we are as a people." ".
Founded in 2017 by reggae artist Protoje and entrepreneur Jason Panton, New Wave has consistently spotlighted Jamaica's emerging creative talent on social media and through in-person events like this one. Lindsey Lodenquai, Creative Director of New Wave, reiterated the platform's commitment to young creators: "Impact is so important – just to give space to our friends and people who we think are doing really great things in the community give."
Our conversation was somewhat muted by a dance edition of Bob Marley Burn and plunder', courtesy of selector Circa Fatman and the towering speakers that flanked the stage. He was the first DJ to curate the vibrations that night, followed by Laing D and Fyahmatic, Heatwave Fatalic and Brush1 the Road Marshal and Bloodline Franco.
Visual artist Joshua Solas, aka Solas Ink, also drew crowds with his dozen or so paintings that adorned the wall to the right of the main stage. While some reggae fans may be familiar with his artwork, designed for releases by the likes of Protoje, iotosh and Tessellated, the mostly text-based works on display tonight offered a more comprehensive view of his skills and concerns. The common thread running through the bold, hyperlocal, and sometimes searing paintings was an examination of language—particularly patois.
The words "BLOCK ROAD, BUN TIRE" covered a canvas and were written in a font designed by Solas himself. "GWH! (GO + AWAY)" read the text on another area, colored yellow and oriented like a diamond-shaped road sign, a warning sign.
"After studying something, I realized that words are the most abstract way of representing something visually. As I deepened this thought, I decided to explore Patois and the works of Miss Lou and those like her, in my own way, to continue this tradition that birthed her," Solas said DancehallMag with thoughtful precision. LED spotlights bathed his work in ever-changing hues; It wasn't his idea, but he didn't seem to mind.
During those early hours of Block Party, viewers questioned the artist about the ideas and intentions driving his hands. "I'm a strong believer in accessible art and art that people shouldn't feel intimidated to approach," he said when asked about the viewing format. Raised and currently based in Bull Bay, Solas has been commissioned to design murals and public art experiences in Jamaica, Los Angeles and Michigan. Tonight, people gathered to admire his smaller work, with some viewers wordlessly musing and others posing for snaps between pieces.
The vision Craig Phang Sang had four years ago when he first grasped Di Lot seemed to be happening in real time. As an artist and entrepreneur, Phang Sang has been involved in Kingston's creative scene since the 1980s. He made his mark in radio, television and film production before opening his own Sony dealerships. Although he was successful in business, he missed creating freely. So he turned to photography and then to painting.
Around 2018 he began developing the idea for what would become Di Lot, a multimedia venue poised to host shows for all art forms from music to film to poetry. "We want to help artists use the space to improve themselves by being able to sell. And we're not here to incriminate the artists. We want to give them the space and put them in the middle of things like [Block Party]' said Phang Sang.
Di Lot received a soft opening last September and officially opened in July of this year. It operates seven days a week and sometimes hosts special events like the Block Party or Skeng's Youngest beast of an era EP launch party.
As we looked at the architectural renderings for the space, Phang Sang told me that while he was fully aware that venues such as bars and clubs often have short lives, he hopes to maintain Di Lot diligently enough so that it lasts. He has enlisted the help of his four sons to help with operations and expansion. Beyond his office walls, the persistent bass sought us out.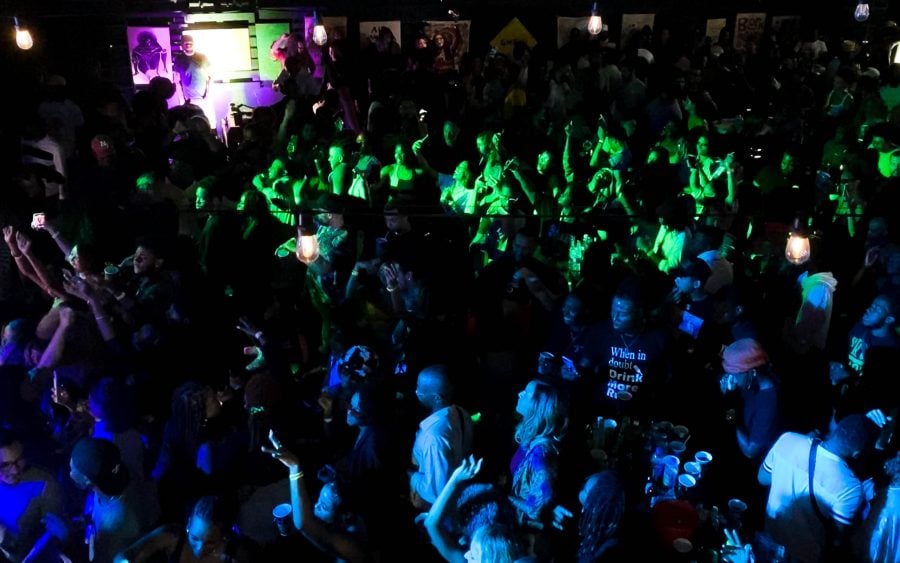 In our chatty absence, Block Party kicked things up a notch. The constant trickle of people entering the Di Lot swelled the venue almost to capacity and most ground floor gaps had closed. Smoke floated overhead while people talked, laughed, and danced below. Videographers would frame shots before scurrying off in search of new moments. Camera flashes punctuated the action.
Many were dressed from head to toe in their Sunday clothes. As the DJs cycled through their sets, the crowd responded eagerly, some syncing the rhythm of their bodies to Elephant Man's hits as easily as Laa Lee's. Dancer Energy appeared a few times and directed the audience in magic of movement.
Afrobeats, hip-hop, pop, and decades of reggae and dancehall music blasted out of the speakers all night; dirt bounce found his way blood money over a distance of Welcome to jamrock, The day will comeand A blood. Hollaback girl and Never Gonna Give You Up were surprises but welcome judging by the enthusiastic forwards in the crowd.
Although no artist performance was billed ahead of the event, recent history suggests one should not be ruled out. As Protoje hopped onto the stage at around 11pm, the focus shifted to him and the crowd grew tense with excitement for what might follow. As HILL began to play, the audience repeated the singer's familiar words in a joyous refrain. The energy flowed through Switch itPop Smokes Welcome to the partyand Lila Ikes Dinero before the climax with Like kings.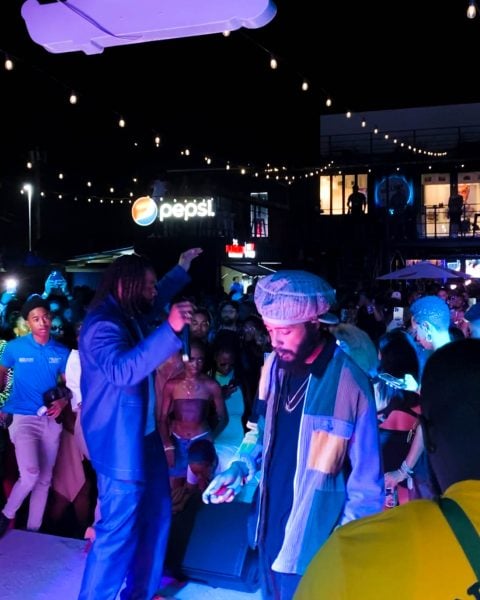 Photographers, hypemes and spectators hoping for a better view freely jumped onto the stage during Protoje's brief performance. A stagehand turned the performance into a pyrotechnic show with little more than a lighter, a can of Baygon, and a bit of zeal.
MC and DJ couple Brush1 the Road Marshal and Bloodline Franco animated the crowd for the rest of the night. Coordinated dances filled the stage and some spectators were pulled up from the ground floor to join in the fun. Even when the crowd retreated after midnight – it was a Sunday after all – the energy didn't let up and was even catapulted to another peak at one point Brrrp of Skeng came up.
Ras-I finished the last set with a performance of Kingman Ting, then the speakers were abruptly turned off. This didn't stop the music, however; Lila Iké, from the second floor of Di Lot, led the remaining parishioners to a birthday party for one of her friends.
Outside the walls of the venue, Friday Night Cru's Dash D and KinDah greeted weary revelers with posters promoting their upcoming event, Deh Yah. At one point, the duo seemed to realize they had underestimated the number of flyers needed.
A few people lingered on the sidewalks in front of the venue. Now, in the stillness of an early Monday morning, some sped their cars away from the orange and white lights that lined Kingston's streets. The rest found their home among them.