The internationally renowned artist is one of the giants of the photographic concept in Vancouver
content of the article
Ian Wallace has been a mainstay of the Vancouver art scene for nearly six decades as a photographer, painter and teacher. He has achieved international success, winning the Governor General's Award for the Visual Arts and is a member of the Order of Canada.
content of the article
Now the 79-year-old can add the Audain Prize to his CV.
content of the article
Wallace was crowned the winner of the 2022 award at a luncheon at the Fairmont Hotel Vancouver on Wednesday.
"It is a great honor to present this award to one of BC's greatest living artists – Ian Wallace," said Michael Audain, Chair of the Audain Foundation.
"In addition to his excellent international reputation, Mr. Wallace has had a significant influence on younger artists."
The Audain Prize for Visual Art is one of Canada's most important cultural awards. Wallace takes home $100,000 for winning the award, given to BC's "most important artists" since 2004.
The list of Audain Prize winners reads like a who's who of BC art, from painters like EJ Hughes, Gordon Smith and Takao Tanabe to photo-conceptual artists like Jeff Wall, Rodney Graham and Stan Douglas.
content of the article
"It's really great to be on the list," Wallace said. "To follow in the footsteps of the artists who have already received the award."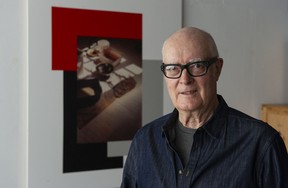 Wallace is one of the giants of local Photo-Conceptualism that has enjoyed great success internationally.
"In the '60s there was a movement called conceptual art, which was very much associated with a more intellectual, literary approach to art that went beyond making objects and painting and things like that," he explains.
"I was a painter and I was painting very strict abstract monochrome paintings at the time, but I was very interested in what was going on in conceptual art.
"So I kind of modified my practice. I went from purely abstract painting to certain types of things that I call concept pieces, different ways of deconstructing painting and ones that started to make sense to me."
content of the article
Wallace was influenced by conceptual artists such as Americans Ed Rucha and Dan Graham, as well as local legend Ian Baxter& and the NE Thing Company, an art collective Baxter& founded in the late 1960s.
He also acknowledges the influence of colleagues like Wall, Graham and Christos Dikeakos. But Wallace's art was not just photography, he mixed it with painting.
"Chris Dikeakos did this really important show called The Photo Show in 1969 where we exhibited our photographs," he explains.
"But I remained interested in painting. So my work since then has been an almost contradictory relationship between photography and painting, monochrome abstract painting. I kind of brought the two together and I think they work really well together, at least from my point of view.
content of the article
"It's been my defining modus operandi ever since, since the '60s, early '70s."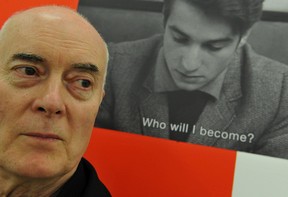 Wallace was born in Shoreham, England during World War II and moved to Canada as a baby.
"My father was a soldier in the war and met my mother in London," he said. "Before the war was over, we withdrew in 1944. I had my picture in the Winnipeg Free Press in my father's arms when I came to Canada as the first war baby.
"They called us war babies because we were the children of Canadian soldiers and English mothers."
In fact, his mother had been born in Vancouver and had spent part of her childhood in a waterfront cottage her father had built on Alma Street just north of Point Gray Road. Against all odds, it's still there.
"He built it in the early '20s," he said. "I don't know if my mother was born in the house… (but) my mother was brought back to England by her mother when she was quite young."
content of the article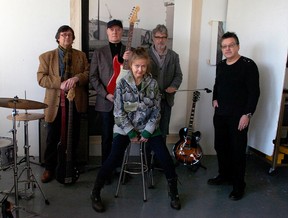 His family lived in Midway in upstate BC before moving to North Vancouver in 1952. Wallace always had an interest in art and attended night high school classes at the old Vancouver School of Art (now Emily Carr).
"We didn't have any money, we weren't a wealthy family," he said.
"So I thought about doing an apprenticeship that would get me a decent paying job. I went to UBC. I first studied literature, but then switched to art history. I had very good teachers – BC Binning was the head of the department back in the early 1960's.
"When I was doing my master's degree at UBC, they hired me to teach art history. So by the time I was 24, I had full faculty. I really worked my ass off and worked really hard."
He giggles.
"I did all the things that needed doing at the time, including writing reviews for The Sun and Province."
content of the article
He was always working on his own art outside of class.
"I exhibited my first painting at the Vancouver Art Gallery in 1965 in a sort of open-jury salon show," he said. "And I've been showing consistency at work ever since."
But he left UBC in 1970.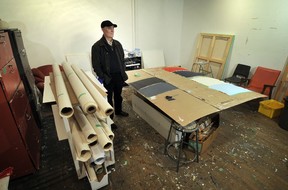 "I thought I'd spent too much time in Vancouver, so I figured I'd better get out and see the rest of the world," he said.
"So in 1970 I moved to London. I quit my job at UBC. Everyone thought I was crazy about it, (but) I did. I had a Canada Council grant and moved to London.
"Stayed there for a little over a year, got homesick and came back to Vancouver and got a job at what was then the Vancouver School of Art in 1972 and taught there until 1998."
His first European exhibition was at the Musée d'Art Moderne de la Ville de Paris in France in 1973.
content of the article
"It was a show produced by External Affairs, the Canadian government," he said.
"So people started to realize that something was happening in contemporary Canadian art. Not just Vancouver, but also Montreal and Toronto across the country. It was a group show with General Idea (from Toronto), Ian Baxter & etc."
While teaching at Emily Carr, Wallace brought American conceptual artist Dan Graham to town as part of a visiting artist program. This turned out to be his big break in Europe.
"He got to know everyone in Vancouver and started talking about us when he was in Europe at various galleries that he was involved with in Europe," Wallace said.
"Then they contacted us. European curators came to Vancouver to see what was going on and made studio visits. I think the first show in Germany was by Rüdiger Schottle (Galerie) in Munich, Jeff Wall had it.
content of the article
"I was invited to exhibit at Rüdiger Schottle and then at Johnen & Schottle in Cologne and it just kept going from there. In Paris I had Galerie Gabrielle Maubrie for almost 30 years and I still exhibit at Galerie Greta Meert (in Brussels, Belgium) where I have been exhibiting since 1979.
"I did a show there just recently, just this spring, in May. Jeff Wall has a show there right now. It goes on, with more success than one would expect."
While his art career was taking off, he also found time to play bass with one of Vancouver's top new wave acts, the U-J3RK5 (pronounced U-Jerks) in the late 1970s. The band included fellow artists Wall and Graham, and longtime CBC radio collaborator David Wisdom.
In 1998 he took early retirement from Emily Carr to concentrate on his art.
"I've basically done a lot of work and produced a lot of work over the past 20 years since I retired," he said.
"I had to leave Vancouver to do overseas shows while exhibiting in Europe and the US. So I just took early retirement at 55 and focused on my professional exhibition program."
It's worked out.
jmackie@postmedia.com