content of the article
MasTec Canada is reassessing its operations following the earthquake the energy and construction industries suffered from the 2020 pandemic and sharp market downturn.
content of the article
At the same time, the infrastructure construction company, which carries out major projects in the energy industry, is hiring additional employees for its team.
content of the article
The Calgary-based company, which operates primarily in western Canada, has not abandoned its traditional oil and gas and industrial construction businesses.
But amid an economic downturn and political currents that forced the industry to turn away from traditional oil and gas sources and meet emissions targets, MasTec diversified with the addition of its power and renewable energy division, This includes the construction of wind and solar energy.
"We've actually built a brand new business over the past two years while continuing to invest in our traditional business," said Leanne McLean, vice president of corporate services at MasTec Canada.
content of the article
"We've actually doubled our investment in our people development," says McLean.
Competitive on salary and benefits, MasTec also focuses on a values-based culture, an added currency they hope will differentiate itself as employers compete for employees amid a skill shortage across the industry.
"Construction is a tough industry," says McLean. "It's -30C outside and you have to work with your hands or work long hours in the cold… I have incredible respect for our workforce."
MasTec recognizes that good leadership supports employees in realizing their full potential.
"We're a stable organization with an incredibly loyal group of employees, a variety of services and a variety of career opportunities," says McLean. "And we put people first. "People with a purpose will drive profits" is one of my personal mantras and we as the leadership team live the word every day."
content of the article
McLean says adding renewable energy to its mainstays was a natural progression.
"We are well suited to be involved in the energy transition," she says. "The skills to safely and efficiently build large compressors and pumping stations are the same skills to (build) hydrogen storage and carbon capture plants.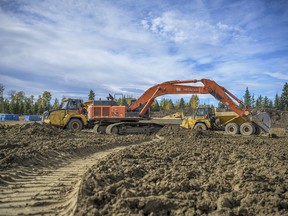 "We're struggling to close the skills gap and do it safely in an environment where we need to rapidly build a new workforce."
Like many others in the industry, MasTec faces issues that come with a green workforce that is hot on the heels of many veteran field executives, particularly in the energy industry, who are finding or hiring their skills elsewhere.
While this loss is palpable, MasTec is using it as an opportunity to support qualified mid-career workers by providing them with the training and dedication needed to advance into leadership roles.
content of the article
For example, after two years of steady work building large compressor stations in northern BC and central Alberta, MasTec hired some employees for a wind farm project during a work hiatus – allowing the company to retain their talent through transferrable skills and teaching them new opportunities, apply them in the field.
"We have a lot of new hires coming into the energy industry without the support of this more experienced leadership group," she says. "We want to be part of the solution by reskilling this incredibly tech-savvy workforce in Western Canada and will do so by providing them with training and opportunities to apply current skills to novel jobs."
Although so much has changed in recent years, not much either, which is why MasTec is expanding its team.
content of the article
"There's still a lot of work to be done," says McLean.
And MasTec Canada has a lot to offer.
"Many people leave the province and/or the energy industry because it is so cyclical and bumpy, but we can provide stability at work through our variety of projects. It's also a great place to work, where people know they're being treated fairly and are being given opportunities to grow as individuals," she says.
The company is looking for people ranging from field workers and turbine technicians to heavy machine operators, welders and pipe fitters, as well as those with experience building wind and solar projects.
Learn more about current job openings at masteccanada.com.
This story was created by Content Works, Postmedia's commercial content division, on behalf of MasTec Canada.