The Macallan M Collection offers a glimpse into the world of The Macallan, with an exclusive selection of limited edition single malt whiskeys to celebrate the brand's acclaimed Six Pillars.
The six pillars are the cornerstones of The Macallan's distinctive and exceptional whiskeys and include Natural Colour, Mastery, Curiously Small Spirit Stills, The Estate, Exceptional Oak Casks and Sherry Seasoning. Inspired by the Six Pillars, the Macallan M Collection offers a range of colors that embody these unique attributes and reflect the emotions that drive the brand. The first three expressions are the 2022 editions of the previously released M and M Black, and the brand new M Copper, which pays tribute to the unique copper stills The Macallan has used since its inception in 1824.
BRAND NEW EDITION:

THE MACALLAN M COPPER
M Copper is an ode to the Curiously Small Spirit Stills that remain key to creating The Macallan's precious spirit to this day. As one of the defining characteristics of the distillation process, they represent a pivotal moment in the history of whiskey making as The Macallan focused on exceptional quality as most transitioned to larger, higher production copper stills. Their distinctive shape and size help focus the spirit of the new brand and create the rich, robust character.
With a natural spun gold color, M Copper is a vibrant and elegant expression that brings out the flavors produced in the stills. It has a buttery, viscous coating in the mouth and is bursting with fruitiness with hints of sweet malt flavor. A handcrafted copper-colored crystal decanter from Lalique represents the stills and reflects the authenticity that drives the brand through its commitment to innovative methods.
DESIGNER TOUCH BY FABIEN BARON, LALIQUE
Visually representing the six pillars, the decanters are beautiful masterpieces created in collaboration with renowned creative director Fabien Baron and French crystal manufacturer Lalique. Designed by Baron, they feature six facets while Lalique draws on over 130 years of experience to create sophistication and flawless clarity. The decanters are encased in exquisite outer packaging, which also references the Six Pillars and is sustainably sourced in Scotland.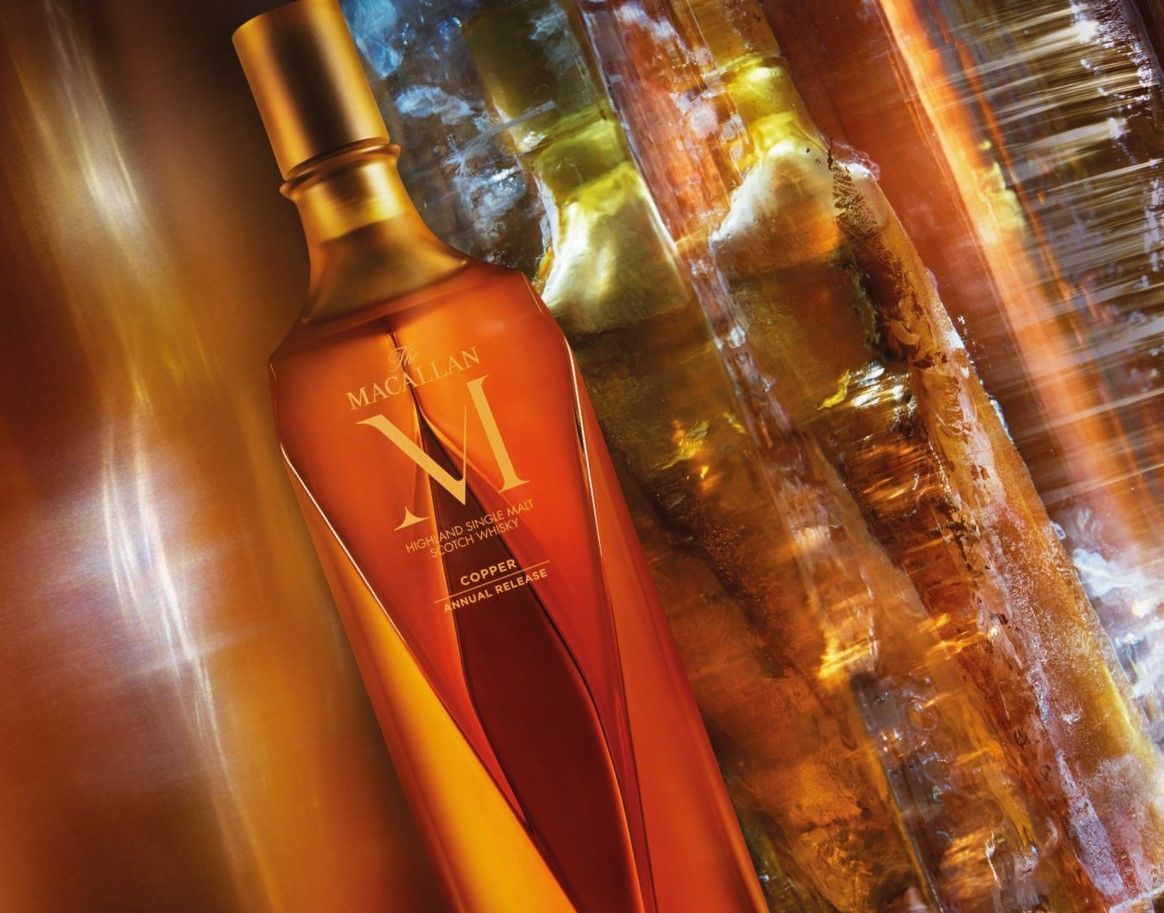 "It is an honor to work with The Macallan – our long-standing partner of 16 years – to create this exquisite collection and showcase our shared sense of mastery, craftsmanship and heritage. The decanters are absolutely unique in the world of decanters, very difficult to manufacture due to their shape, and Lalique's crystal masters have enjoyed applying their most complex skills to bring Fabien Baron's creative vision to life."

– Silvio Denz, Chairman and CEO of Lalique
TAKEN THROUGH NICK KNIGHT'S LENS
The Macallan has collaborated with renowned luxury fashion photographer and creative visionary Nick Knight to create a series of photographs and films in his abstract and expressionist style. Knight's imagery captures the collection in blocks of ice as a tribute to The Macallan's intrinsic connection to nature and to the River Spey, which flows through The Macallan Estate.
"Our Six Pillars cornerstones embody everything that makes The Macallan unique and together underpin the renowned quality and rich character of our whisky, and The Macallan M Collection tells the story of these unique qualities. Committed to uncompromising excellence, we are proud to work with Fabien Baron and Lalique to bring these extraordinary expressions to life, and with Nick Knight to create a dramatic visual world for the collection."

– Jaume Ferras, Global Creative Director of The Macallan
CLICK & DISCOVER THE MACALLAN M COLLECTION