The Cahoon Museum of American Art on Cape Cod is steeped in the history of the scrimshaw. Don't know what that is? Well you are not alone. Created by whalers at sea in the 18th century, this largely forgotten folk art form is steeped in tales of a finite period in American history.
Whaling was an important profitable industry in 19th-century New England. The oil, derived from whale blubber, lit homes across the United States and lubricated all manner of machinery.
Whale hunting has been dramatized and romanticized in books and films, including Herman Melville's classic Moby-Dick. Yes, there were adventures, but Cahoon Museum director Sarah Johnson said working on whaleships is mostly grueling – physically and emotionally.
"It was a life of long moments of boredom punctuated by moments of terror, and there were long pauses between whales," she said, because the sailors were at sea for months, even years. "Here lies the art form of scrimshaw has really evolved."
The whalers, often in their teens, found a way to express themselves by turning discarded whale bones and teeth into novel canvases. They polished them to a high gloss, then carved intricate images into the surfaces before filling their finely etched lines with pigment.
"They weren't trained as artists, they didn't have fancy materials, they just had the scraps of the whaling industry — you know, their knives and some lampblack," Johnson said. "And they made these incredible objects out of it."
Around 200 top-class examples can be seen in the comprehensive exhibition "Scrimshaw: The Whaler's Art". A handful were made by professional scrimshandlers, as they are known. But according to the show's curator, Alan Granby, 95% were created by amateur artists. Most works are not even signed.
Granby has been collecting and researching scrimshaw for 50 years. "Art makes our lives more beautiful. It wakes us up. It's food for thought," he said. "Scrimshaw does all of that, but it also gets us into the story."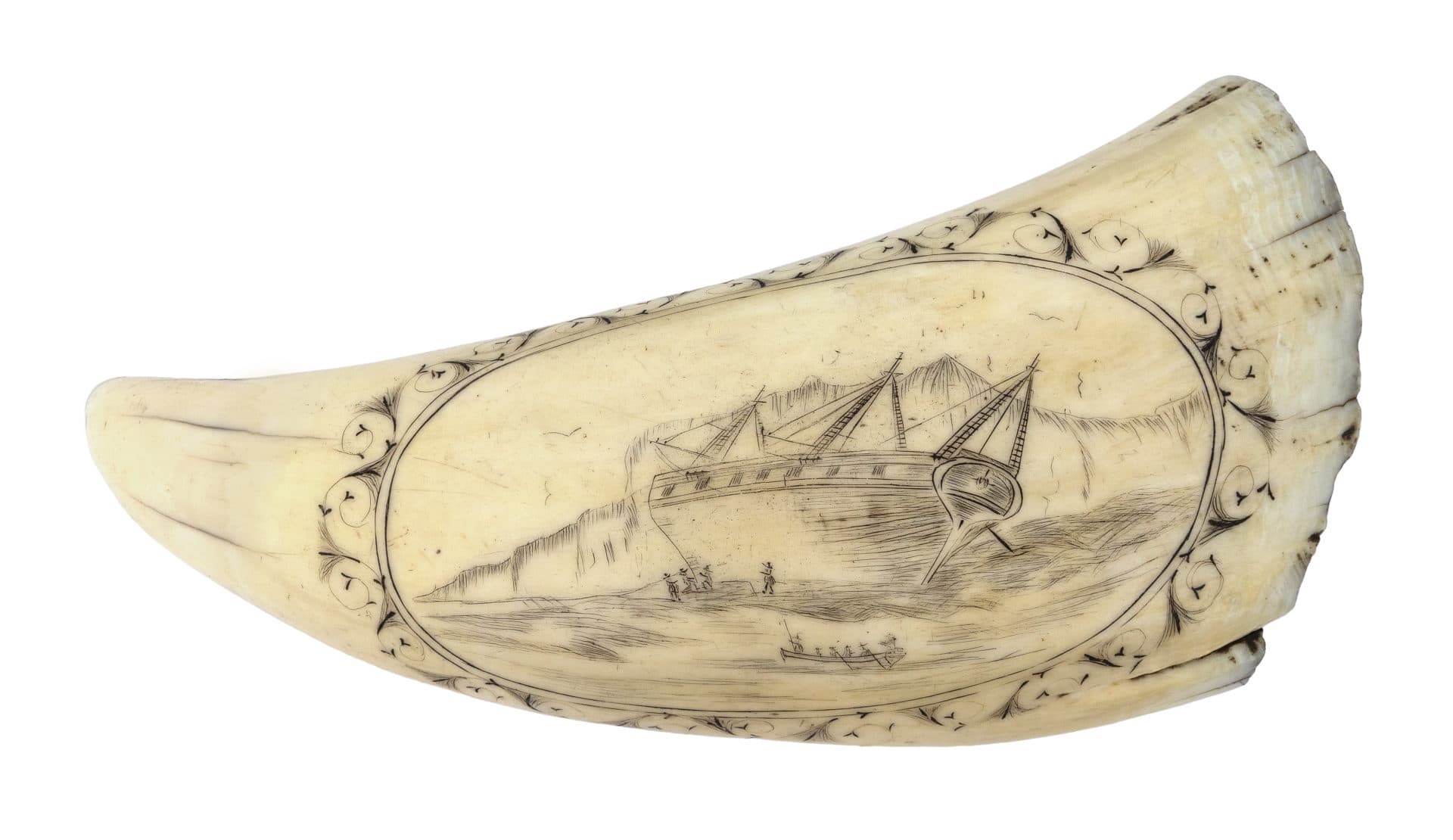 Granby said the images in that show (which also fill his huge, photograph-rich book on scrimshaw) offer glimpses of what young seafarers saw, felt, thought and read at sea.
There are teeth with waterscapes and ships being smashed by giant whale tails. Portraits of national heroes and loved ones also remain. Scrimshanders made impressive, useful whalebone gifts for their girlfriends and wives, including cake tongs, sewing boxes and corsets used to stiffen their corsets.
A popular 1837 book on pirates inspired a group of scrimshanders to copy an image they found between the pages. This engraving depicts a mythical 5th-century Scandinavian princess named Alwilda-turned-swashbuckler. There is a Primo tooth carving of her in the exhibition.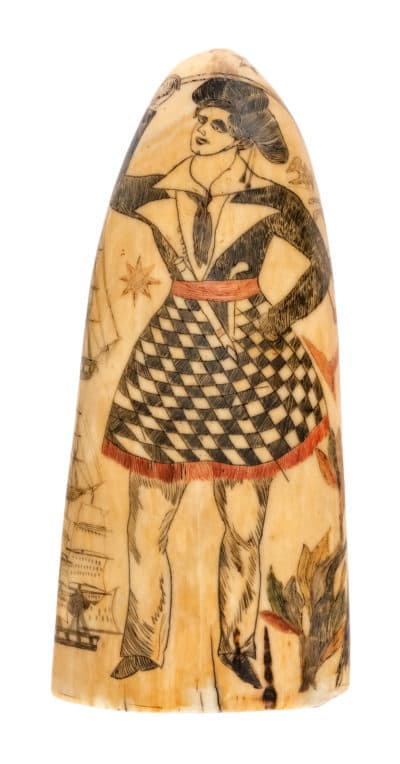 Alwilda wears a smart, fitted black jacket with a checkerboard pattern below the waist. She looks defiantly at the viewer while brandishing a curved cutlass above her head.
With Sarah Johnson's help, Granby happily unfolded Alwida's entertaining story.
"She was quite beautiful, and she was quite the target of young men of the day. Her father didn't want her to have anything to do with them," Granby began.
"So he kind of kept her captive in a tower that was supposedly surrounded by snakes," Johnson continued. "And he told his daughter that she was going to marry a Danish prince."
Alwilda did not agree with this agreement.
"She finally found a way to break out of her captivity," Granby said.
"As part of her escape, she disguised herself in the clothes of a sailor — a male sailor," Johnson continued, with Granby providing the punch line, "And she joined a women's crew and became their captain on a pirate ship."
The myth of Alwilda (which is very likely not true) has two different endings – a tragic one where the Danish king mistakes her for a man and kills her in battle on board her ship; the other more in love, where they marry and Alwilda becomes Queen of Denmark. Regardless, Johnson called it "a great story of female empowerment and adventure."
It is interesting to consider why 19th century whalers were so fascinated by Alwilda's wild tale. Granby estimates he has seen around 20 carvings from Alwilda over the years.
"Why are there so many? I think because of the romance of the story," he mused. "The whole concept that fascinates you about a female pirate, fascinates others – basically everything speaks for it."
Today, Alwilda teeth can fetch tens of thousands of dollars at auction. Granby said the large, colorful specimen loaned for the Cahoon Museum display is one of the best he's seen.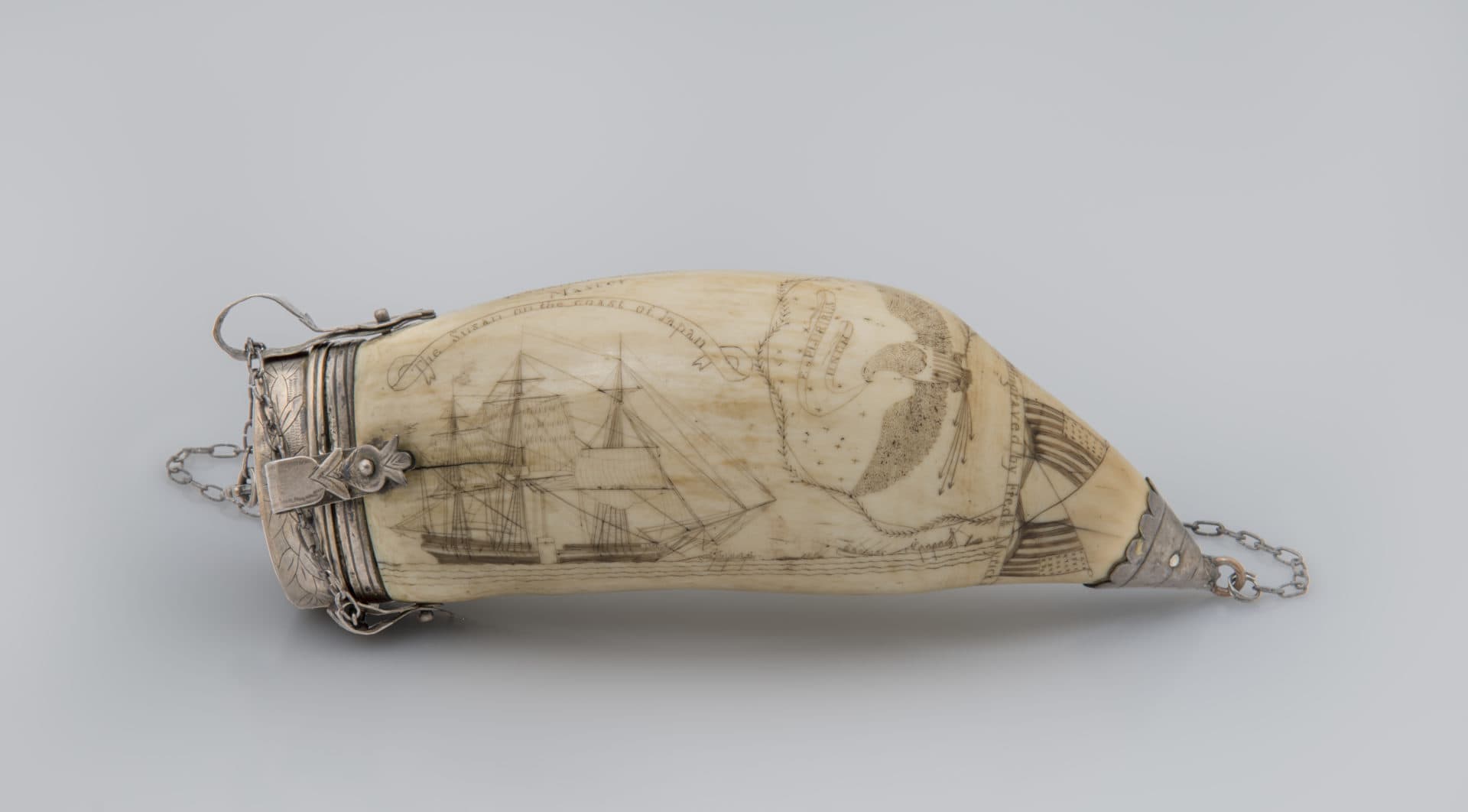 Scrimshaw began to disappear when fossil fuels replaced whale oil in the early 1900s. Now the likes of Granby – who preserve the art form's past – are hoping more people will look back at this history and give it a chance.
"We're doing everything in our power to try to keep it going," he said. "Scrimshaw is pretty much a niche like you're unlikely to find – although there's some pretty esoteric stuff that people collect."
For Johnson, one insight from this exhibition is that the urge to create is in all of us. "And maybe art is needed most when you're in a dangerous and dirty situation."
---
Scrimshaw: The Whaler's Art is on view at the Cahoon Museum of Art in Cotuit through October 30.