There are a few things that stargazers want from a night sky observing/planetarium software, extensive libraries of night sky objects, lots of information, easy controls and search functions, and the ability to use it on multiple devices are just some of the key elements. Luckily, Stellarium meets all the requirements.
Considering that Stellarium is free, open-source software, it's surprisingly advanced and can be used on almost any device imaginable, portable or not. We think it's one of the best, if not the best software for astrophotography. Stellarium's user interface is small to install and quick to use. It's incredibly easy to use and runs smoothly.
Impressively, Stellarium is one of the few night sky programs available on Windows, Mac, and Linux systems in both 32- and 64-bit versions. In addition, it is also available as a website on the Stellarium web, so you can access it from any browser on any system. There is even a dedicated app called Stellarium Mobile available for both Android and iOS (opens in new tab).
The desktop software requires very little hardware. Minimum system requirements are: Linux/Unix; Windows 7 and later; Mac OS X 10.12.0 and higher, 3D graphics card supporting OpenGL 3.0 and GLSL 1.3 or OpenGL ES 2.0, 512 MB RAM, 500 MB on hard disk. And just a little more for the recommended requirements.
Read on to find out why Stellarium is one of our top picks.
main features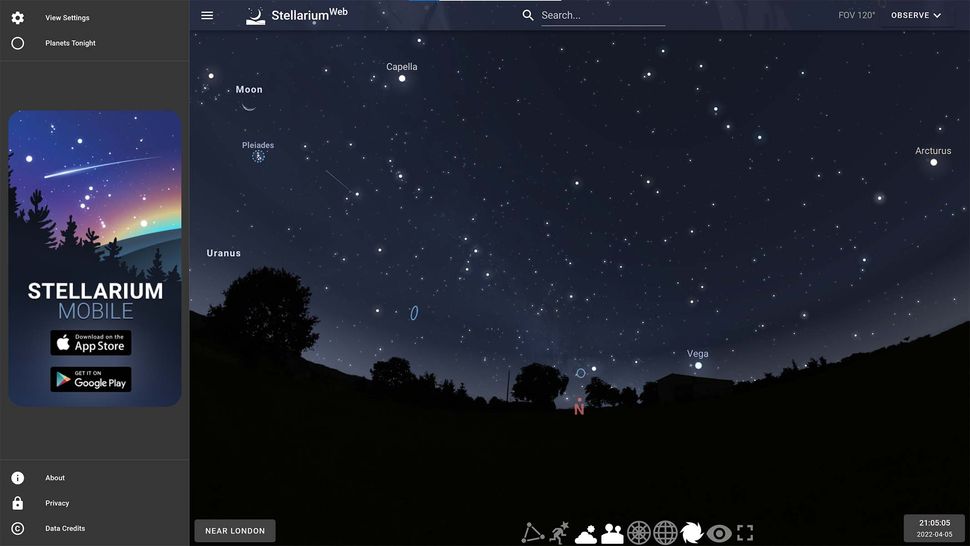 (opens in new tab)
It's easy to see why Stellarium is so popular with amateur astronomers and stargazers around the world. It contains a huge catalog of over 600,000 stars, complemented by additional catalogs for more than 177 million. To view every deep sky object in the software, you would have to search through the 80,000 different options available, increasing to over a million with the additional catalogue.
One option we particularly love is the ability to switch between different view modes. Namely eyepiece view, image sensor frame and Telrad sight. For the average stargazer, the eyepiece view offers more than enough information and scalability, but astrophotographers might consider the image sensor's frame view. This view offers a helpful list of cameras with different sized image sensors, telescopes, and Barlow lens options to overlay a helpful framing guide that shows exactly what you'll be capturing when you shoot.
Sure, Stellarium lists all the constellations in the night sky, but it's also comprehensive by also showing constellations from over 40 different cultures worldwide. Each constellation has a translated language, a native language, and an abbreviated language.
User Interface and Ease of Use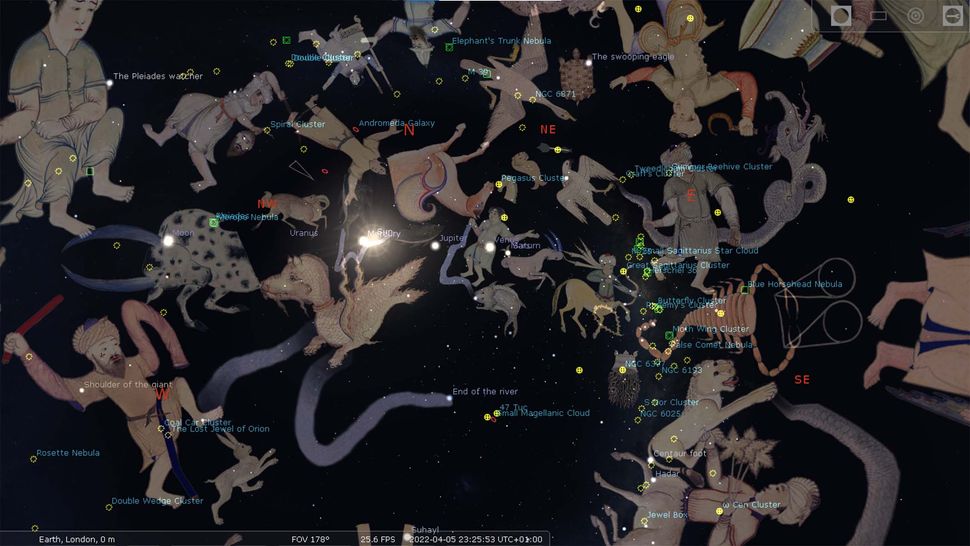 (opens in new tab)
Stellarium's user interface is exceptionally intuitive. On the main screen, click and drag to navigate 360 ​​degrees through the night sky, and scroll or pinch to zoom in or out for more or less detail as needed. Clicking on an item will show its vital stats, which we would like to see more detail of in the form of a link, such as competitor software offerings. So this is one area where Stellarium is showing the limits of its open source space.
However, two main control panels at the bottom left of the screen allow for quick toggling on and off of display options like providing constellation lines, art, and borders. It also adds equatorial and azimuthal grid overlays, places the ground for realistic horizons, and allows users to toggle deep sky objects, meteor showers, and exoplanet views.
The true genius of the display lies in the timing options, which allow for intuitive fast forward, rewind, play or pause, and visually zoom the sky forward and backward as you use it. But there is a small bug in the desktop software where when an item is selected, the information is displayed on the left side of the window, obscuring the topmost buttons on that side's panel.
perfomance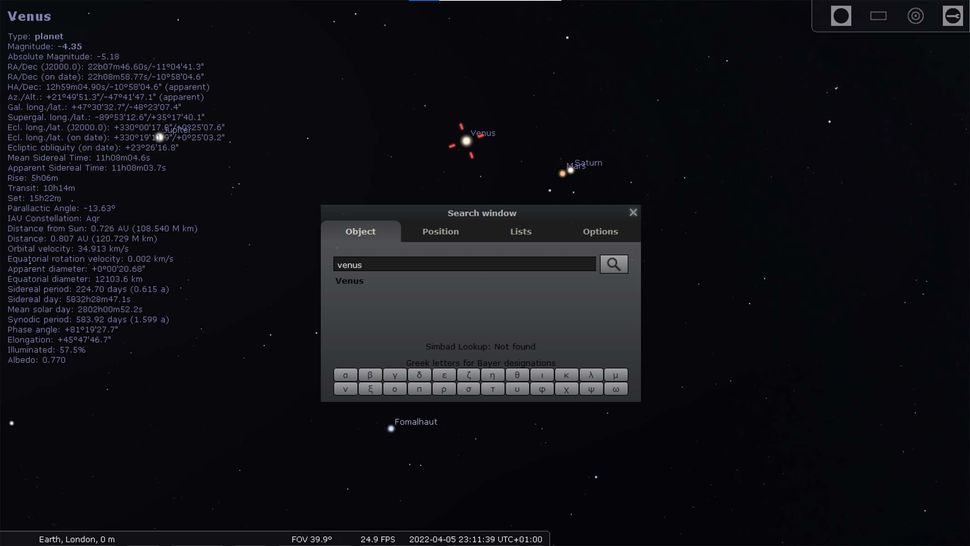 (opens in new tab)
A tiny installation and robust controls make Stellarium's performance stable on any device. We've been using this software for years and have never had a crash or slowdown. The search function delivers results quickly and automatically navigates to the object you are looking for immediately.
As mentioned, Stellarium has branched out in recent years, offering options to download the desktop program for Windows, Mac, and Linux operating systems, but also has a web-based version that allows anyone to access Stellarium at any time. There are also Android and iOS app versions of Stellarium that work similarly to the desktop and web versions, making the overall user experience seamless and familiar.
Verdict
If you're looking for night sky software that's available on almost every platform imaginable, is extremely reliable, and is put together so beautifully that it's a pleasure to use, look no further than Stellarium. The fact that it's also open source and free to use is the icing on the cake.
Sure, it lacks a few bells and whistles compared to its paid competitors, but it does everything an amateur stargazer would want and more. It even has a night mode that filters all screen light to red to protect astronomers' night vision so they can use it while observing the sky. We can't think of any other night sky software that's as comprehensive and free, and we wholeheartedly recommend Stellarium.
• Get Stellarium over the Stellarium website (opens in new tab)