Athens is losing more than the city's only locally owned vegetarian restaurant as The Grit closes its doors for the final time this week: our city is losing a piece of its beating heart.
"It really was the soul of Athens," an irreplaceable essential element, said Judy McWillie, a longtime staunch patron of Grit, an Athenian artist and retired art professor at the University of Georgia.
Prince Avenue restaurant announced its impending closure on Sept. 22 in a social media post aimed at its customers, noting that The Grit has been "the cornerstone of vegan/vegetarian cuisine in. for more than 30 years Athens" is. "Unfortunately, due to the pandemic, things have changed and we have had to reassess our business goals. It is therefore with a heavy heart, but with a hopeful view of the future, that we announce that we will close our doors on Friday, October 7, 2022, at the end of the evening service.
The news spread quickly and widely, to widespread dismay. Business has picked up a lot, at least for a while, as not only Athenians but also former customers who have moved to Atlanta and other places return to Grit for one, two or three last meals at the famous eatery.
"If anyone can help, I'll mow your lawn, cut your hair and paint your house while giving you a key to the city," tweeted Athens-Clarke County Mayor Kelly Girtz, a vegetarian.
There was a rush for copies of the famous The Grit Cookbook, and online sellers increased their prices. The lowest price for a copy of ABE books on Thursday afternoon was $72.56 plus $5.55 shipping; A copy was available from Amazon for $38.98 plus shipping.
The Grit was launched in 1986 – not coincidentally, when the Athens music scene was exploding into national consciousness – when two young Athenians, Jennifer Hartley and Melanie Haner Reynolds, decided to open a combination cafe and art gallery on the old train station on Hoyt Street.
In 1990, the restaurant moved to Prince Avenue, which was evicted from the station by fraternity boy violence, which emanated from a bar that was also a station tenant, said former partner Jenna Schuh. Schuh bought into the company in 1988 after the founders decided to move on, initially leaving it to Brenda Mills, who later sold her half to Schuh, and Jessica Greene, the sole owner since 1995 when Schuh fell in love, married and moved away ( but is now back in Athens). REM frontman and Grit patron Michael Stipe agreed to rent them a building he then owned on Prince Avenue when "we decided to turn it into a full-fledged restaurant," Schuh said.
Grit's fame rests primarily on its excellent, often simple, but often groundbreaking edibles, such as the grit staple – pinto beans, onions and cheese served over brown rice, seasoned and topped with sautéed vegetables – and Schuh's invention, the golden bowl. The dish won an award from Vegetarian times when someone there tried the revolutionary recipe that combined tofu, soy sauce, vegetable oil and nutritional yeast with other ingredients, topped with yeast sauce or cheese and sautéed vegetables. Those two remain among the most popular dishes, along with others like the delicious black bean chili and a box full of cakes and tarts, all baked in-house, said grit server Riley Obert.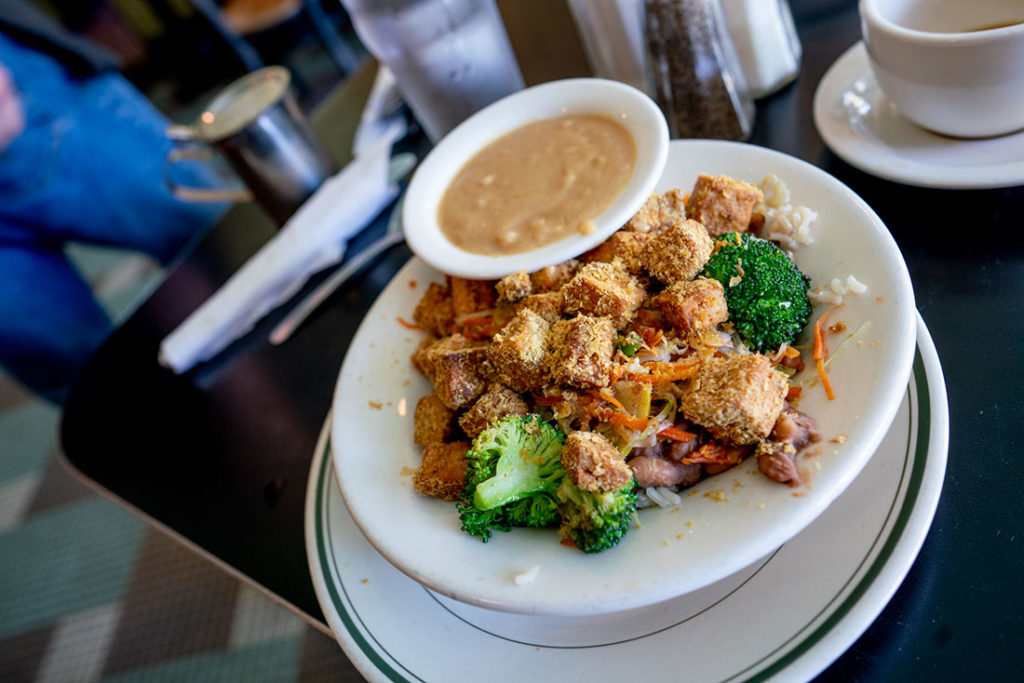 "What I liked about it, it's not an organic restaurant; it's a vegetarian restaurant," he said flagpole Food writer Hillary Brown.
The food at Grit was like nothing you'd find anywhere else, McWillie said. "They had Middle Eastern, Mexican, American food; They had everything, and not only that, it was the best in town," she said. "There is no other food like it. It was vegetarian, but it was also world food."
The clientele was a mixed bag: down-to-earth compatriots from Elbert County as well as Athenian hipsters. But The Grit was also unique in its connection to Athens' cultural scene. The staff were typically aspiring artists, musicians, and other creatives, encouraged by owners like Greene and her late husband, Ted Hafer, who was loved by many of the staff and died in 2014.
"He was one of the best people I've ever met," said former manager Patrick Fraser. "He would show up at your house at 9am when you were supposed to be there at 8:30am." But he wouldn't fire you.
From time to time, musicians who worked at The Grit — Jucifer's Gazelle Amber Valentine and many others — would go on band tours for weeks or months, but when they came back they'd still have jobs, he said.
"We've always been lined with artists and musicians," said longtime Grit exec Jay Toddy.
A Grit employee who is a professional clown has recently returned from a European tour. McWillie noted that former Grit servers were Jason Thrasher, who was beginning to build a career in photography while there. Bands were born there; connections happened.
"We nicknamed it 'Quantum Junction,'" McWillie said. "Because of this incredible mix of people and the food, people would come in and end up collaborating on projects."
"They really offered more family," Fraser said. "This place has really brought out a quality of character and people trying to do something with themselves."
There was always an art display on the walls – sometimes bad art, sometimes world class, like folk artist RA Miller. A piece that still hangs in the restaurant, "God Love The Grit," belongs in the Georgia Museum of Art, said McWillie, an authority on folk art.
Such a nurturing environment helped The Grit retain loyal employees, some of whom have worked there for decades. "All my friends worked there," Katie Gasperac, a co-owner of Normaltown's Hi-Lo Lounge, explains why she poured so much of her life into The Grit from 2001-2008. "Every day at work was a day with all your best friends. What's the point of having a day off when all your friends are at work?"
"Great atmosphere, great people," said baker Vernon Thornsberry, a two-decade grit veteran who earned respect as an artist during that time. "It's sad because it's something you love that was a part of you. It's like a big ol' hunk that's been taken out of you because you have so much passion for it."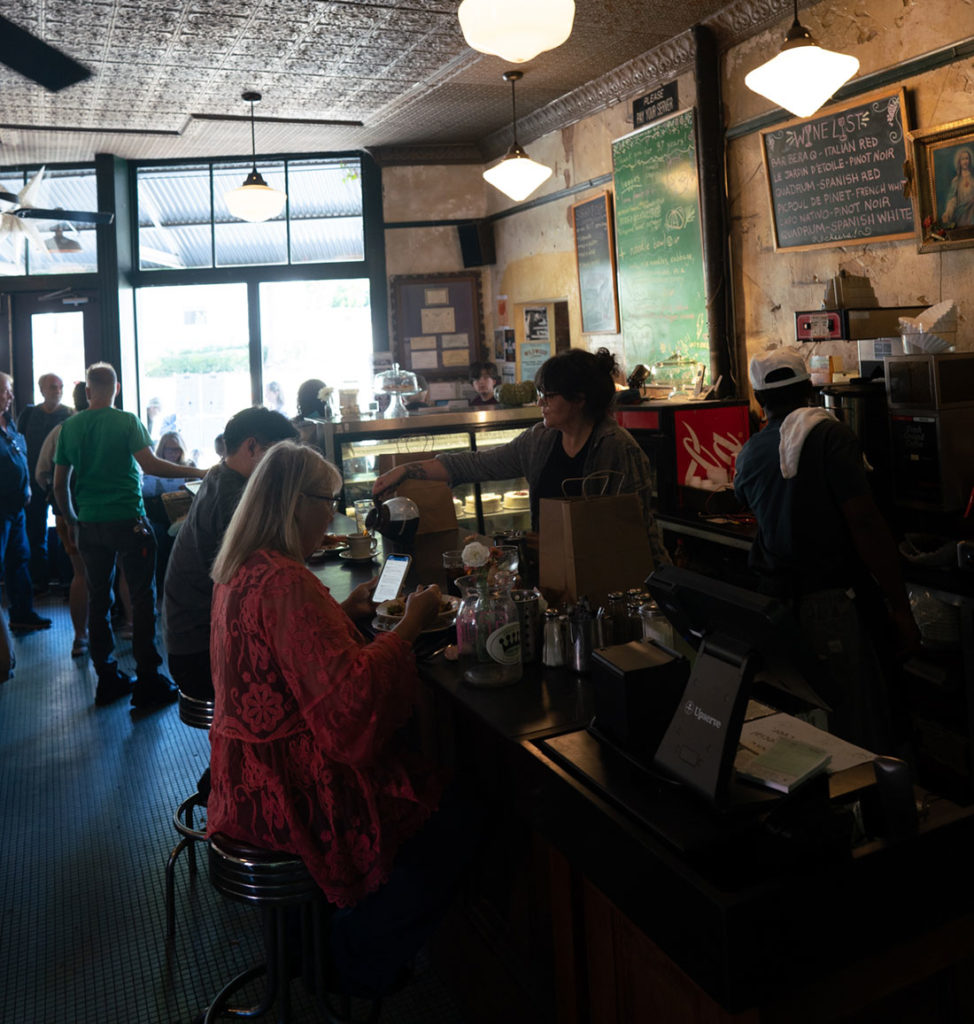 First and foremost, takeout restaurants have generally thrived in recent years, but the COVID era has been tough for mostly sit-down restaurants like The Grit, said David Lynn, co-director of the Athens Downtown Development Authority. Even in the best of times, restaurants survive on slim profit margins, and that's especially true at the labor-intensive grit, whose owners have made nurturing their community and workers as much a mission as feeding hungry diners.
"We've always fought to make it work," Toddy said.
Now the fighting here has intensified in times of COVID. Inflation is driving up costs, staff turnover has been unprecedented and, of course, people are staying at home. And a lot of restaurants these days have vegetarian options, Toddy noted – which is good for the planet, though maybe not for The Grit, he said.
This summer has been unusually slow not only for The Grit but for other Athens restaurants as well, Toddy said. "Jessica persevered, persevered, really felt like it was going to be a big fall," he said. But that didn't happen.
One of McWillie's hopes is that The Grit will survive, in spirit if not as an actual entity. "It's going to be a huge blow to the community," she said. "That made for cohesion."
Do you like what you just read? Support Flagpole by donating today. Every dollar you donate helps fund our ongoing mission of providing quality, independent journalism to Athens.